We know that a few days of extreme cold can wreak havoc on plumbing fixtures and pipes in homes so we're here to prepare homeowners for the upcoming weather.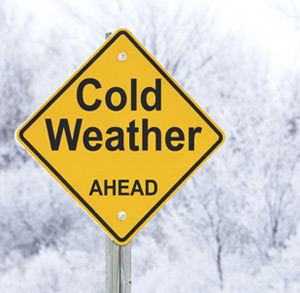 Number 1 and most important: protect your pipes from freezing!

Don't risk the chance of having your pipes freeze, or even worse bursting, during the cold weather.  Follow these simple tips to ensure your plumbing is ready for the cold temperatures.

How To Avoid Frozen Pipes

Wrap your pipes in your basement or crawl spaces with heat tape or insulated sleeves
If your water heater is located in a cold area, especially tucked away in your basement, you should consider an insulated blanket to put over it.
Make sure all of your heating vents are open and furniture is not blocking the heat flow
Keep a slow trickle of water flowing through your faucets—especially the faucets connected to pipes that run through unheated or unprotected spaces
Keep your cabinet doors and pantry door open to allow warmer air to circulate around pipes in your kitchen and bathroom.
Make sure to keep your thermostat set at the same temperature during the day and night.  If you're leaving town (to hopefully go to a warmer location!) set your thermostat to at least 55 degrees.

Say goodbye to your garden hose (until spring!)

If you still haven't removed your outdoor hose(s) and turned off your hose bib properly, do so immediately.  This also includes closing and draining your shut-off valves that lead to the outdoors.  The last thing you'll want to repair this spring is your hose bib that was affected from the cold winter months.

   Skipping the cold and heading out of town?  Lucky you!

Make sure you keep your heat running and set at 55 degrees or higher.  You can also keep certain cupboards open to keep warmer air circulating—especially those that back up to an outside wall.

Do you know where your main shutoff valve is?

 Every homeowner and those who live in the home should know where the main shutoff valve is located.  This is especially critical during the winter months when frozen pipes occur.  If your pipes do burst, it's important to turn off your main water supply as soon as possible!
What To Do If Your Pipes Freeze

Locate the general area where the pipe has frozen. Typically this will be anywhere against your exterior wall or where your water service enters your home through the foundation.
Make sure you keep your faucets open. Once the pipe begins to thaw, water will begin to flow.  Running water through a pipe will help melt the ice.
If you're able to, try to apply heat to the section of the pipe using a heating pad, hair dryer, or a portable space heate
Edwardson Plumbing is here for you regardless of the temperature or season!  Our plumbers are readily available to take care of any plumbing job—big or small.  Give us a call today to schedule an appointment.  Bundle up and stay warm the next few days!